Shalom Primary School - Bijalpur, Rajasthan. (School & Hostel Children)
Over a number of years SHALOM operated the Shalom Primary School in Bijalpur village in Rajasthan state. This school has classes from kindergarten up to the 8th Grade. Currently this has been handed over to Shalom Charity Mission. There are 303 students studying here. Day scholars number 123 with the remaining 180 children staying in the school hostel. These hostel children are provided with good and nutritious food regularly and are given proper health check-up and care as and when necessary. In addition to the good education provided there are also number extracurricular activities. These include sports, games, retreats, cultural programs, spiritual programs and with career guidance.
Kumpura Primary School - Kumpura, Rajasthan. (School Children)
Harinagar Hostel - Madhya Pradesh
A hostel facility is provided for the children in Harinagar village in Madhya Pradesh. Distance and inaccessibility as well as unaffordable fees in other hostels make this hostel attractive for the children residing here. There are 42 children in the Shalom hostel now. These hostel children are provided food regularly and are given proper health check-up and care as and when necessary. Most of the children are studying in their villages, some in other hostels near and far away from home.
SSDP - Hirola, Gujarat
SSDP - Jeri, Gujarat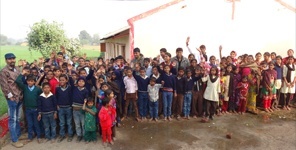 SSDP - Antervelia, Madhya Pradesh
SHALOM STUDENT DEVELOPMENT PROJECT was started in three Bhil Tribe Villages. They are, Hirola Village and Jeri Khurd Village in Gujarat and Antervelia Village in Madhya Pradesh. Through this project, about 600 Bhil tribal students are getting one time meal and they are given free tuition. Every year they get free school material. Programs such as career guidance programs, retreats etc. are conducted for them.
As more and more Bhil tribals come to the saving knowledge of the Gospel, their life style is completely transformed. Like others in the community they aspire to come up in life through education. The educational facilities in the community are not easily accessible nor is it of high quality. Therefore Shalom Charity Mission has initiated a number of programmes to support the education of Bhil tribal children.
With increased demand from the members for educating their additionally about 2000 Bhil Tribal children are being supported by the Shalom Charity Mission. They are supported with the help of a few organisations and sponsors. SHALOM's goal is to bring the second generation of the Bhil Tribe people to the next level by educating as many children as possible. So as the children approach for any education support, they are given small help until a sponsor comes forward and gives his or her maximum support.