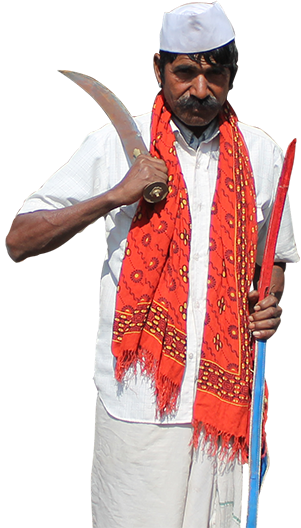 Bhil people live in small huts in their small villages along the hilly regions. Their main occupation is cultivation and forming and the rest go for other labour work. Each and everyone have Bow & Arrows, Swords and Slings to protect themselves and to plunder others. Men at riverside, brew alcoholic drink and men, women and children consume the same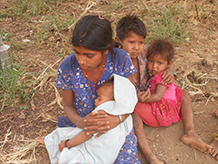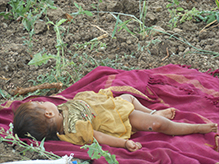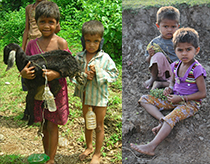 The Bhil people work in the fields leaving their children outside the field carelessly. At a certain age the children also work along with their parents and because of this, they do not go to school and remain illiterate and uneducated.
Almost all the children work along with their parents in their fields doing cultivation and farming, and in summer they migrate to other Towns and Cities to do labour work with their children. So most of the children are not educated as they are in the clutches of child labour.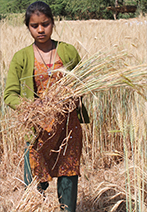 Health and hygienic condition are very bad among these tribal areas. People are easily affected with Malaria, Typhoid, cancer, Tuberculosis and other deadly diseases. Many are anaemic from iron deficiency and from Sickle cell. The hospitals are too far away from their villages and these tribals rarely go to the hospitals as they are not able to afford the expensive treatment.
Transport facilities are not available in the villages, so people walk miles of distance and cling on to any vehicle on their way to get to their destination. Taking the sick to the hospital on time is impossible and the same goes with school going children.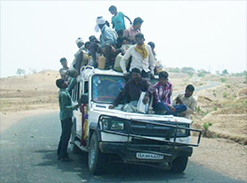 Many Bhil villages have no electricity, as they cannot afford to pay the bill. In some villages the power is supplied only for 3 to 5 hours a day and it is not well maintained. Students find it difficult to study and do their homework at night.
Studying under candle light
No maintainence in electricity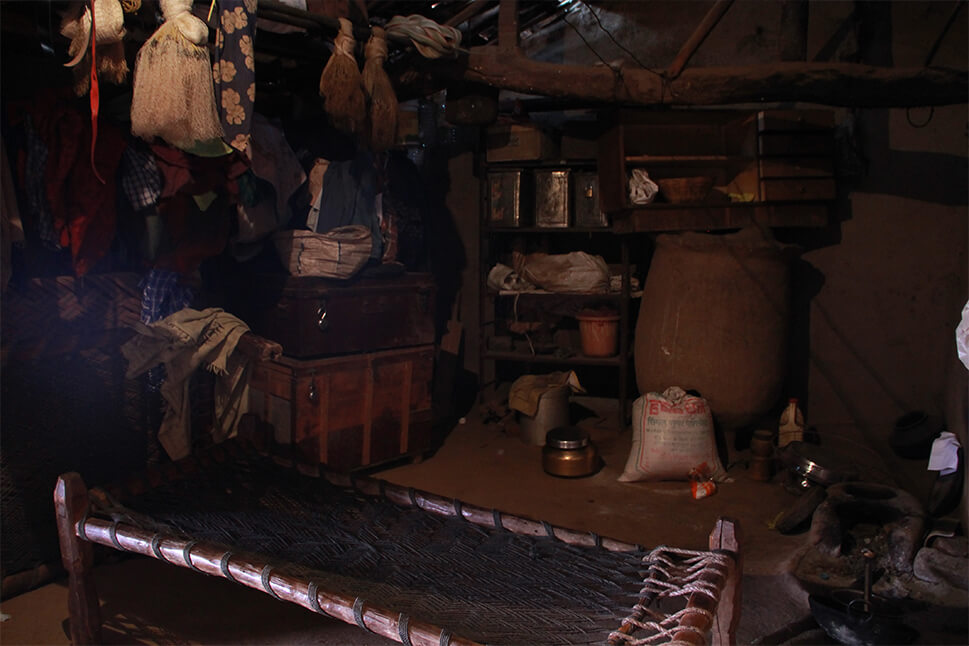 House without electricity
Most of the schools do not have proper facilities and infra-structure and do not have dedicated and motivated teachers. So the children who go to school are not well educated and they are not eligible for higher studies unless their parents are able to afford the fees. So most of the children return back to work in their fields along with their parents.
Only a very few Bhil Children obtain a Bachelor's degree and get a job; some children discontinue their studies due to lack of interest or due to unaffordability; some migrate to other cities and towns along with their parents to do labour work and earn for the day to day living. As they lack in proper education and social awareness, the children agree for early marriage which is one of their traditional practises.
Early Marriage (Teenage Couple)
The Bhil people are unaware of the basic healthy living and easily fall sick with common and rare diseases. Many deaths are caused due to late consultation with the doctors and lack of awareness. Many sick people rely on witch crafts and magicians to get healed, so they will have to risk spending more money and get branding with hot iron bars.
With these, the Bhil children remain the same as their parents were, without any support. But Shalom Charity Mission is doing its atmost to transform the Bhil Tribe Community to shine in the future. Come! Be a part of this transformation.
Branded with hot iron bar